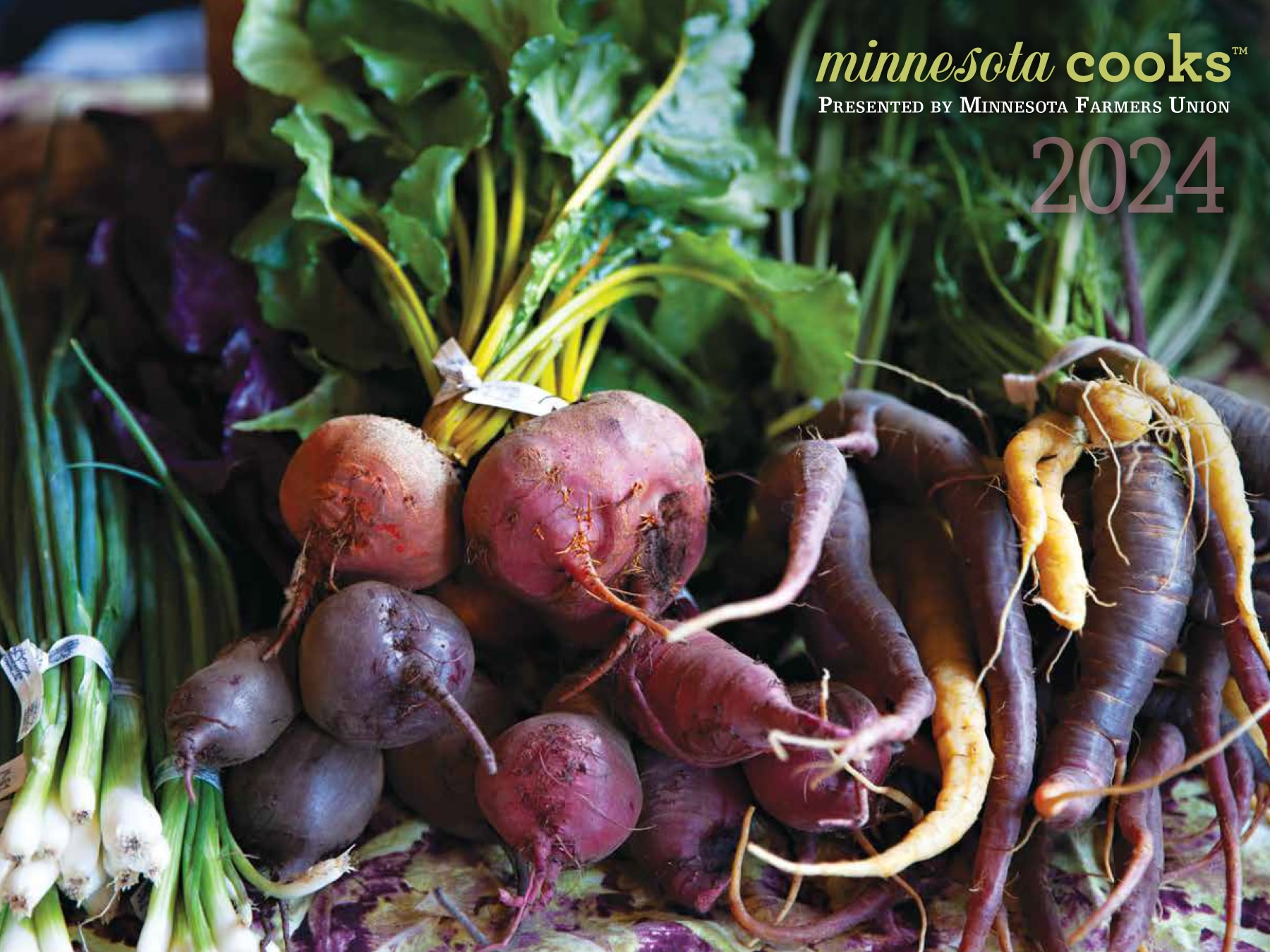 Every year, the Minnesota Cooks team highlights 12 farm-to-table partnerships between family farmers and restaurants, makers, brewers and buyers from around Minnesota. Stunningly photographed, each month includes a recipe as well as a thoughtful interview with the farmer and buyer. Members of Minnesota Farmers Union receive a calendar annually and additional calendars can be ordered here.
2024 Calendar Available Now
The 2024 Minnesota Cooks Calendar is now available! There are four options for getting your hands on a FREE copy of the beautiful 2023 Minnesota Cooks local foods calendar while supplies last:
Place an order here and have a calendar mailed to you directly. The $5.00 fee covers the shipping and handling on this order. 

You also have the opportunity to donate in support of Minnesota farms and farming programs. Y

our donations directly benefit Minnesota Farmers Union Foundation, which funds the local foods advocacy of the Minnesota Cooks program, Minnesota Farmers Union Scholarships, and Minnesota Farmers Union summer camps.
Become a member of Minnesota Farmers Union. All members will receive a calendar via mail in early December.
Pick up a 2024 calendar by visiting a featured restaurant or contacting a featured farm and arranging for pick up. Most businesses will receive a limited supply to distribute to friends and fans by mid-September. Note: supplies are limited, and calendars are available on a first come-first served basis. Please do not stop by farms without prior permission.
Visit Minnesota Farmers Union-owned restaurant Farmers Kitchen + Bar located in the Mill District of downtown Minneapolis and pick up a free copy.
Farmers Union Welcomes Everyone
Everyone depends on agriculture. As Wendell Berry famously said, "Eating is an agricultural act." If you aren't an active farmer but care deeply about food security and safety, strong local and regional markets, climate resiliency, renewable energy, trade issues, affordable healthcare, land use, and other social and economic issues, it makes sense to become a member of Minnesota Farmers Union. Help preserve and nurture family farms and rural communities by joining MFU and adding your voice to our strong community of advocates.